Yamaha Portable PA System – 10″ Speakers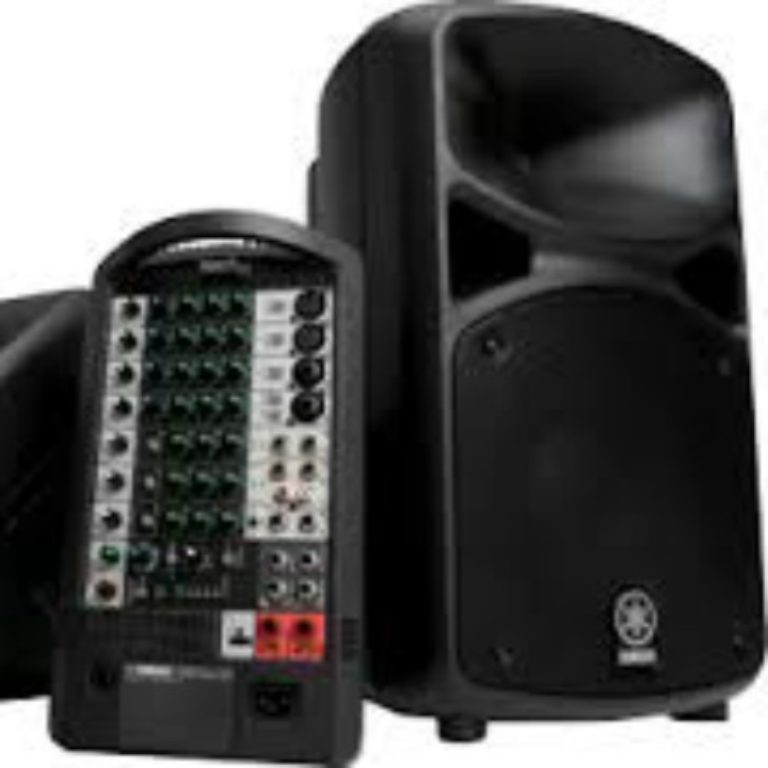 Just grab the Yamaha StagePas 600i portable PA system for all the power and high-quality sound you need to fill a small performance space, yet it's small and light enough to bring wherever you need it. Combining a built-in powered mixer and PA speakers, the Yamaha is also incredibly easy to use – letting you set up and start playing in a matter of minutes! Perfect for small band performances, a band room PA for school, or for multi-purpose use at church.
Can provide ample sound for a room up to 60'x60′.
System includes:
2 Speakers
2 Speaker Stands
2 Wired Microphones
Needed cords
Dongle Connect available upon request
Specifications
680W portable PA with full-featured 10-channel mixer
Two wide-response loudspeakers with 10" low-frequency driver and 1.4" high-frequency driver
2-band EQ on each channel for optimizing each instrument or voice
Master 1-knob EQ tailors the sound of the whole system for specific applications
Built-in feedback suppression lets you eliminate offensive feedback with one button press
High-quality SPX digital reverb available on the first four channels
iPod/iPhone can connect and it lets you enjoy your music library while charging your device
Includes mixer/power amp, 2 x speakers, cover panel, power cord (2m), 2 x speaker cables (6m), and adjustable speaker stands